Nothing gets the adrenaline pumping like riding the world's fastest rollercoaster, Formula Rossa, here at Ferrari World Abu Dhabi. Feel the exhilaration as you go from 0 to 240km/h in 4.9 seconds while soaring 52 metres in the air. The whole family will find an adrenaline-fueled ride just for them; everyone can join in the high-octane fun. The Ferrari-branded theme park on Yas Island is home to more than 20 record-breaking attractions, including the highest loop ride, and it all happens underneath the tallest space-frame structure on the planet.
The Flying Aces ride is where you can experience the world's highest roller-coaster loop. Climb 63 metres at a 51-degree angle, and enjoy your ride! Do you have what it takes to join the Ferrari F1™ pit crew? Check out the Tyre Change Experience test to see if you can match the pace. Over at the Turbo Track, you can feel the unique force of an epic zero-gravity fall.
Those who enjoy a more relaxed experience will love Bell'Italia, a ride that lets you explore a mini Italy in a Ferrari 250 California, circa 1958. The ride also showcases other Italian landmarks such as the Amalfi Coast, Monza Racetrack, the Colosseum di Roma, Venezia and Maranello, the home of Ferrari. You'll also find a Family Zone, family-friendly attractions, state-of-the-art simulators, electric-powered go-karts, live shows and an inspiring collection of racing memorabilia. Feel the need for speed?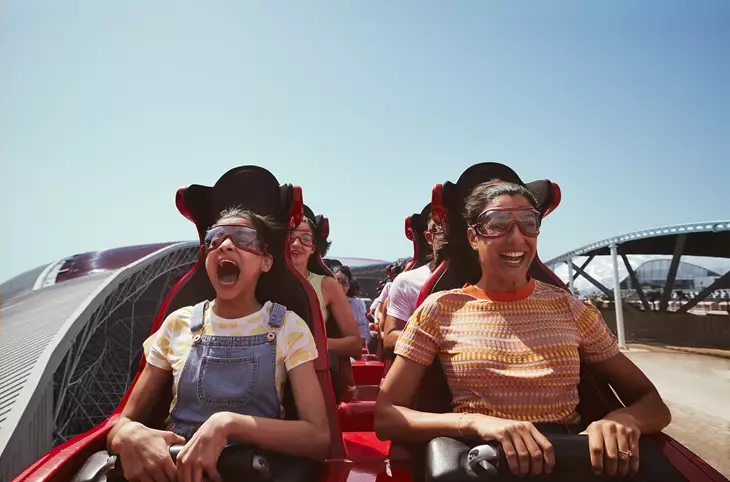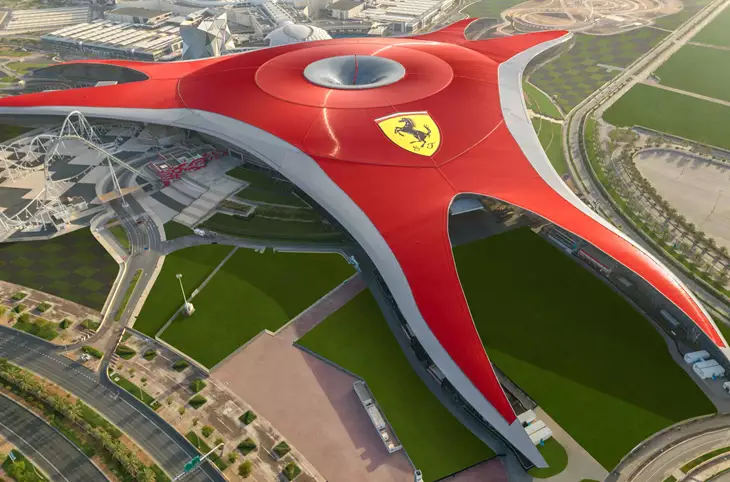 Ferrari World Abu Dhabi is known for many record-breaking achievements, but it's also known for its striking red roof blazoned with Ferrari's iconic prancing horse logo. Get up close and up high for a daring Roof Walk. See Yas Island and the Abu Dhabi skyline while strapped in for a daring walk along the theme park's structure. You can also unleash your inner daredevil for a zip line experience which flies through the world's highest rollercoaster loop!
Gate rate AED 380. Buy online and save up to 10%.
sales@ferrrariworldabudhabi.com
This is one of the world's largest indoor theme parks on Yas Island, Abu Dhabi's entertainment destination. It brings together an unbeatable combination of high thrill rides, family-friendly attractions, state-of-the-art simulators, live shows, a wealth of racing information and memorabilia as well as Ferrari-inspired shopping and dining experiences in one spectacularly designed entertainment experience. The park's popular attractions include the world's fastest roller coaster Formula Rossa, the region's first duelling coaster Fiorano GT Challenge, a road racing-inspired short film at Cinema Maranello, an aerial adventure inspired by the route of the famous Mille Miglia race on Viaggio in Italia and much more. The park lends itself is an exciting and innovative venue for meetings, conferences and events with more than 3,000 sqm of meeting space with in-house catering capabilities. Its premises, facilities and attractions can also be hired for large scale events such as team-building activities and fun-charged incentive trips.
Ferrari World Abu Dhabi
Yas Island – Abu Dhabi – United Arab Emirates