Welcome to where the action happens. Yas Marina Circuit is the UAE's most epic motorsports venue and host of the Formula 1™ Etihad Airways Abu Dhabi Grand Prix. Adrenaline runs high around these super-fast straights and swooping corners that wind their way around the beautiful Yas Marina. Each year, thousands descend on the circuit for action-packed events that involve circuit racing, drag racing and even karting at the Yas Kartzone.
Yas Marina Circuit has hosted the Formula 1™ Etihad Airways Abu Dhabi Grand Prix since 2009. It's known worldwide for being a great track for racing action and an even better track to be a spectator. Fans can get incredible views of on-track dramas and overtakes from five main stands. Abu Dhabi Hill, opposite the North Grandstand, also offers fans open grass banks to sit and watch the race.
You can channel your inner Lewis Hamilton and get into a supercar yourself. Yas Marina Circuit offers many packages that allow you to take the wheel and experience the thrill of high speed yourself. Take to the track in powerful vehicles like the Aston Martin GT4 and the Caterham Seven, or how about drifting in Chevrolet Camaro? Check out all the experiences on offer at Yas Marina Circuit.
It's not just four-wheeled race cars that grace the tarmac. The track makes for the perfect place for residents and visitors to get active. The TrainYAS and GoYAS training programmes open the track up for walking, running and cycling. Racing training also takes place at Yas Racing School and the circuit makes for unique corporate events held in fully equipped Yas Central meeting rooms.
On top of an extensive year-round programme of professional and grassroots motorsports and sporting events and experiences, the circuit has emerged as a thriving hub for entertainment and community events in the UAE. As the region's most technologically advanced facility, the circuit is a leading MICE venue, regularly hosting a diverse range of corporate meetings, conferences and events.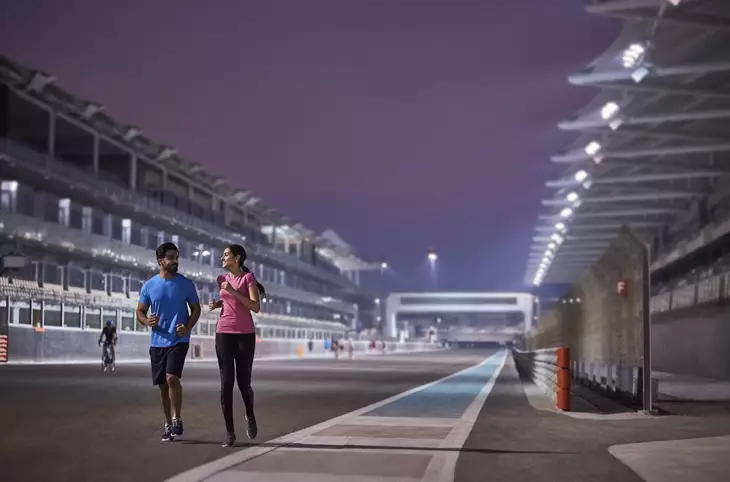 asli.plail@ymc.ae

+971 2 659 9948
This unique F1 circuit, on our Yas Island entertainment destination, is open for business and can accommodate any size of event from large-scale banquets, conferences and exhibitions all the way through to small private parties with flexible venues that are supported by a turnkey event delivery team. All the facilities needed to a host a Grand Prix – one of the world's biggest sporting events – can be quickly transformed into a world-class venue for business and entertainment. With beautiful, landscaped grounds, unrivalled facilities and over 2,000 hotel rooms on its door step, Yas Marina Circuit has everything you'd expect in a leading meetings venue.
Formula 1 Etihad Airways Abu Dhabi Grand Prix 2023
24 races. The season finale. Time to go unreal! Experience the Formula 1 Etihad Airways Abu Dhabi Grand Prix 2023 this November at the iconic Yas Marina Circuit. 
The 15th edition for the Formula 1® Etihad Airways Abu Dhabi Grand Prix promises to be bigger and more exciting than ever before. The AbuDhabiGP 2023 promises to be another grand finale that will go down in the history books of the sport.
2023 will bring more value to the Abu Dhabi Grand Prix race ticket than ever before, as all ticket holders are able to access one of the amazing theme parks on Yas Island complimentary. Along- side the world-class after-race concerts and the huge variety of off-track entertainment across Yas Island as well as Yas Marina Circuit, 2023 AbuDhabiGP promises to be unreal at the Meeting Place of Champions
Starting From AED 1,450.00
Yas Marina Circuit, Yas Island 
Yas Island – Abu Dhabi – United Arab Emirates