Basking under the Abu Dhabi sunshine, rushing down water slides, and getting that sun-kissed, happy glow is a sign of an incredible day. That is what it feels like after you've spent an entire day splashing up a storm at Yas Waterworld Abu Dhabi, one of the city's most incredible attractions. Located on Yas Island, just 20 minutes from Abu Dhabi city and with an area spanning 15 football pitches, this enormous waterpark has an Emirati theme. It follows the story of a young local girl on a quest to find a legendary pearl.
For those wondering, the pearl does exist, and you can spot it at the top of Jebel Dhana, the park's towering centrepiece. It is pretty massive, so there is no way you can miss it.
Daredevil rides and epic slides
Once you are in Abu Dhabi Yas Waterworld, there is so much to do. With 40 popular rides and slides, you'll be laughing, squealing and screaming in joy (and a little bit of terror – depending on your fright levels). It is essential to know that every ride has height restrictions, simply for the safety of your children.
On to the rides we go! Give the world's first, largest hydromagnetic-powered, 238-metre long, six-person tornado waterslide, Dawwamma a go, followed by the insane three-metre-high waves on Bubble's Barrel, which has the world's largest surfable sheet wave for flow boards and bodyboards. For thrill fanatics, dial up the levels to 100 because that is the Liwa Loop. Imagine the ground beneath you suddenly giving way, and you are now freefalling down a high-intensity slide. How is that for an extreme adrenaline rush?
For the folks who prefer laidback rides, there is the Al Raha River or the lazy river, where you can just lay and float without a care in the world. Perfect for younger ones!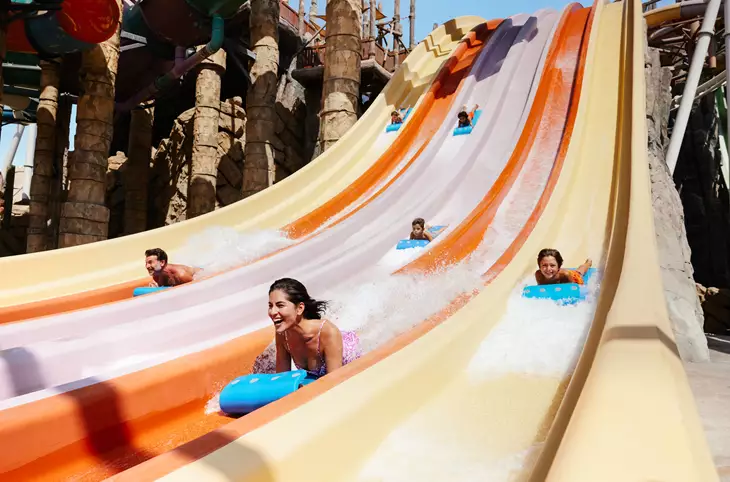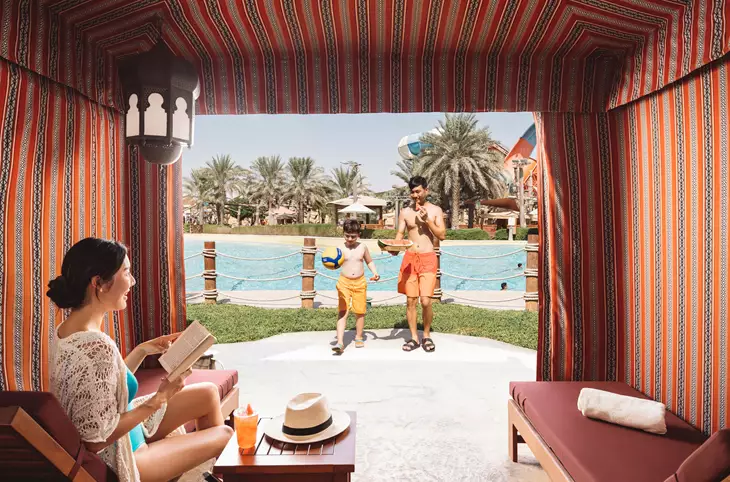 Beat your hunger with the many dining options available at the park, from kids-friendly items to fresh salads, sandwiches and pasta. Skinny's Frozen Treats is sure to keep you staying cool with frozen lemonade and ice-creams.
Suppose you are heading to Yas Water World Abu Dhabi in a larger group of 4 or 6. In that case, you can rent out the private Al Waha cabanas, where you get a VIP butler service, a delicious menu, complimentary towels and the works. A fabulous day with a luxurious twist!
Yas Waterworld Tickets Overview
Activity Timings:
Yas Island- 10:00 AM – 11:00 PM
Yas Waterworld- 10:00 AM- 07:00 PM (Saturday- Thursday) & 01:00 PM- 10:00 PM (Friday)
Activity Duration: 9 Hours (approx.)
Note: Transfers are available only from Deira, Bur Dubai, SZR, and Al Barsha.
About YAS Water World:
Visit the famous waterpark in Abu Dhabi and enjoy your fullest with more than 40 amazing rides & slides. Situated on the renowned Yas Island, the unrivalled leisure and entertainment destination of the UAE, this captivating waterpark takes inspiration from the region's illustrious pearl diving heritage. Prepare to be enthralled by an unparalleled array of 45 exhilarating rides, slides, and attractions, including an impressive selection of six exclusive experiences found nowhere else on Earth. Immerse yourself in the allure of diverse themed zones, be captivated by mesmerizing shows, and engage in interactive activities that will leave an indelible mark on your family's memories. Book tickets for the Yas Waterworld, explore 15 hectares of the area of this premier waterpark, where thrilling adventures, captivating shows & a rich blend of cultural themes await.
About the Yas Waterworld Tickets:
Enter a world of 29 exhilarating rides, over 35 live characters, distinctive dining experiences, and exclusive shopping at Yas Water World Abu Dhabi.
Splash into the action at Yas Water World Abu Dhabi, a quick 40-minute drive from Dubai, making it a must-visit destination for all!
Meet your favourite DC and Animation characters in person at Yas Water World Abu Dhabi, with over 35 live characters to make your day magical.
Have over 100 animal experiences and presentations, where knowledgeable experts share insights into the animal kingdom.
Be captivated by the lively performances of over 20 live characters, bringing the park to life with their entertaining shows and interactions.
Explore the region's largest multi-species marine life aquarium, a mesmerizing underwater world that showcases the beauty and diversity of marine creatures.
Indulge your taste buds with a wide array of dining options, as Yas Water World offers 16 unique dining experiences, catering to all culinary preferences.
Book Yas Waterworld tickets and enter park's shopper's paradise with 13 shopping experiences, where you can find everything from souvenirs to trendy apparel.
How to Reach?
By Car: The activity location is 38.9 km from the city centre, it will take 31 minutes via the Sheikh Zayed Bin Sultan.
Don't Miss: Book Abu Dhabi's popular attractions like Ferrari World Tickets, Abu Dhabi City Sightseeing Tour and Wild Wadi Waterpark Tickets.
Gate rate AED 325. Buy online and save up to 10%.
Frequently asked questions about Yas Waterworld Abu Dhabi.
Yas Waterworld Abu Dhabi
Yas Island – Abu Dhabi – United Arab Emirates