Warner Bros. World™ Abu Dhabi
Enter a vibrant world of unlimited fun tucked away indoors at the Warner Bros. World™ Abu Dhabi. Spending a day at the whopping 1.65 million square foot park is easy as you fill in the hours by hopping between the 29 amazing rides! Interactive family-friendly attractions and live entertainment are guaranteed giggles for the younger ones, while shopping and dining venues keep you happy and energised.
One thing is true – Warner Bros Abu Dhabi knows the exact formula to elicit smiles, whether you are 5 or 50.
Fully air-conditioned, don't be surprised if you break into a sweat when you spot all the legendary characters you've grown up seeing right in front of you. From the effortlessly sleek Superman and Wonder Woman to the iconic Bugs Bunny and Fred Flintstone, you will have to pinch yourself several times throughout the day if you don't believe these cool cats are real.
It's down to you to decide which magical worlds you want to explore first. Take your pick from Bedrock, Dynamite Gulch, Cartoon Junction, Gotham City, Metropolis and Warner Bros. Plaza or follow your heart's instinct (or the map) to find the best route.
Which one will you explore first? Each land is decked out and styled right down to the T, fitted with rides and outlets of the same theme. Unless you got yourself a sweet Flash Pass, many popular rides might have short queues, so remember to follow queuing rules, so everyone has a fabulous day!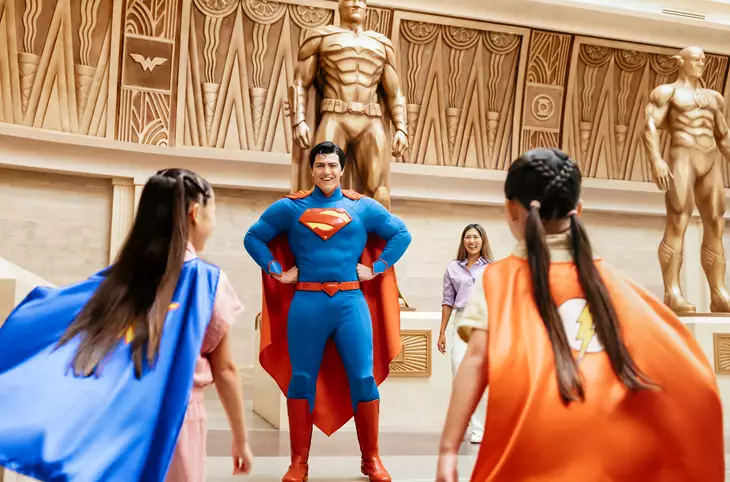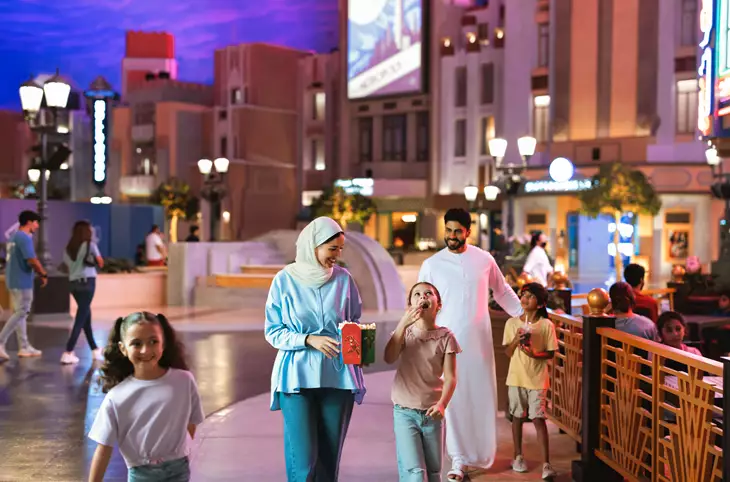 Feeling peckish? You can either grab and go or fill up on 'food fuel' at one of the nine dining outlets peppered across the park. Slurps up with a refreshing slushy or sorbet from Yogi Bear and Boo Boo ice cream and for those with a raging appetite – there's no better place than a dino-sized burger at Bronto Burgers and Ribs!
Take home a memento that you will cherish forever from the souvenir shops around Warner Bros. From DC Studios to Looney Tunes, get t-shirts, mugs, keychains, and plenty more keepsakes for everyone in the family.
Be close to all the action by checking into the playful WB Abu Dhabi, Curio Collection by Hilton, located just 2 minutes away by car from Warner Bros World Abu Dhabi. Imagine a room that is not just stylish but has a playful edge, keeping your mood forever light and fun. While at the hotel, dunk into either of the pools (including one with an outdoor cinema), check out the five dining options and leave your younger ones at the designated play area. Whilst the kids play, head over to the spa for some rejuvenation. The best part? Every hotel guest gets daily access to all the Yas Island theme parks!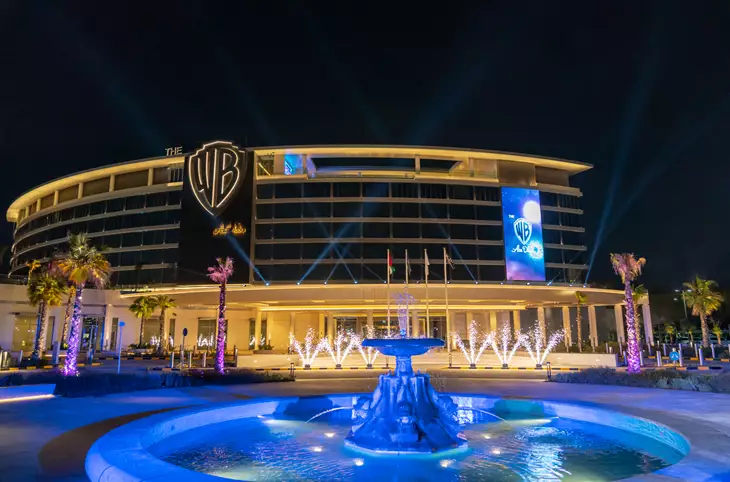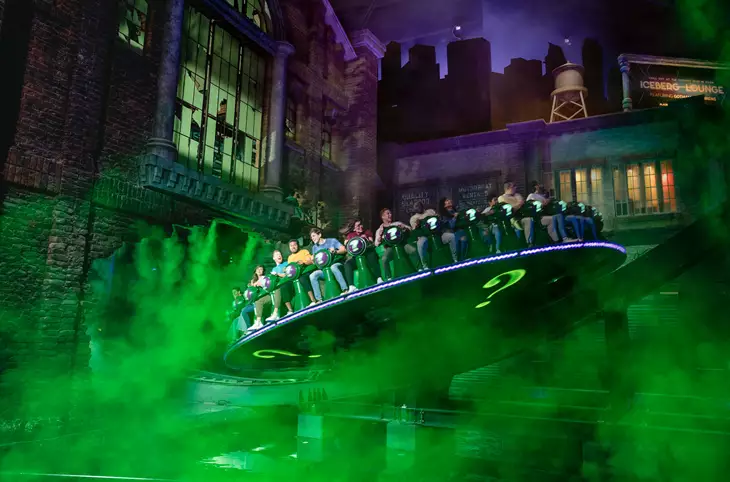 A single-day ticket can be purchased at the gate for AED 345 per person during the summer. Tickets bought online are 10% off at AED 310 per adult and AED 240 per child.
Make sure to check the park's special offers, which are regularly updated on their website before purchasing a regular-priced ticket. Your best bet is to also buy online rather than directly at the gate. Warner Bros. World™ Abu Dhabi timings are from 11 am to 8 pm, so you can easily spend the whole day there!
Gate rate AED 380. Buy online and save up to 10%.
Frequently asked questions about Warner Bros. World
Warner Bros World | Abu Dhabi
Yas Island – Abu Dhabi – United Arab Emirates